Here comes a new stable version of CzechIdM called Forsterine. Big milestone feature is new report module.
Forsterite (Mg2SiO4; commonly abbreviated as Fo) is the magnesium-rich end-member of the olivine solid solution series. It is isomorphous with the iron-rich end-member, fayalite.
Assets
Report module
Via reports module administrators can prepare reports of identities, roles and many others. This reports helps with GDPR.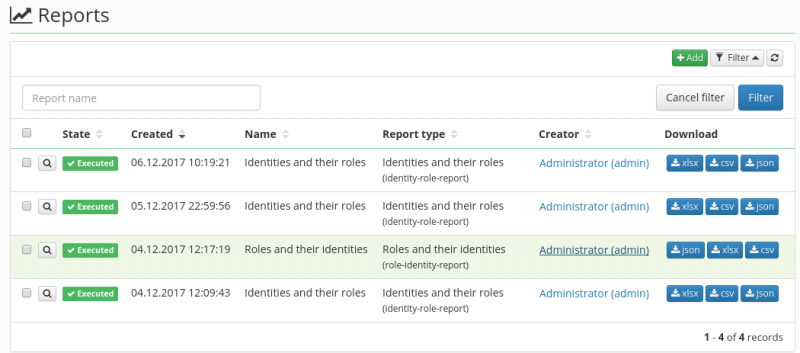 Each report can have parameters to choose from. e.g. "include only valid roles" (not those valid in future or past). All generated reports are available in web GUI, where also the status of the report is shown (Running/Executed). There, after the report is prepared, users can download it.
Reports are now available in those formats: csv, xlsx, json.
More about reports module you can find here.
Tutorial how create your own report is here.
Basic account management
Identity account management is a long time in our product. Now you can use basic account management for other supported entity types (Role, Catalog Role, Tree).
Account management can be managed by a script (Groovy) that you can define in the detail of the system mapping.
More about basic account management you can find here.
Default role in the identity sync
The main use-case for this option is initial linking of accounts during the reconciliation of a system, where the accounts will be further managed by CzechIdM – e.g. LDAP, AD. The default role will be usually configured for provisioning on this system.
The value can be any role in CzechIdM. This value is used in the case that the synchronization links an existing system account to an existing or new identity in CzechIdM. If the default role is specified, this role will be assigned to the identity for its main valid contractual relationship.
More about default role you can find here.
Identity state
Identity life cycle is now controlled by state. State is changed automatically by system – when identity is created, contract to identity is added or removed etc.
More about identity state you can find here.
Read more
More details about the topics can be found in product Documentation. If you have any questions or comment, feel free to comment on redmine, github or email me on info@bcvsolutions.eu. Also join our google group to keep in touch with CzechIdM news.