V identity managementu je práce s bezpečnostním protokolem SSL na denním pořádku. Ať už přenášíte údaje o uživatelích mezi propojenými systémy, spravujete vzdálený server přes SSH, synchronizujete hesla, nebo jen chcete zabezpečit přístup uživatelů do informačního systému přes internetový prohlížeč, neustále se setkáváte s potřebou ochránit síťovou komunikaci proti odposlouchávání.
Přesto, že programátoři i systémoví technici SSL běžně používají, občas bývá jejich pohled omezený na problematiku, které se právě oni věnují. Proto jsme uspořádali interní školení s cílem ujasnit si základy SSL a doplnit tu teoretické, tu praktické znalosti o fungování tohoto protokolu.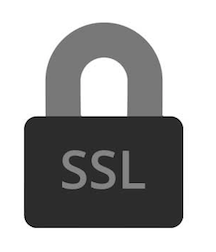 Agenda školení
Motivace
co je SSL
s jakými protokoly aplikační a transportní vrstvy komunikuje
zabezpečení komunikace šifrováním
autentizace komunikujících stran
Teorie šifrování
symetrické šifrovací algoritmy a jejich využití v SSL
asymetrické šifrovací algoritmy, vlastnosti, důsledky, využití
Postup při komunikaci
dohoda účastníků na použitých algoritmech
autentizace účastníků pomocí certifikátů
vytvoření hlavního šifrovacího klíče
šifrovaná komunikace
Certifikáty
elektronický podpis
CA
certificate chain
CRL
formáty certifikátů
Příklady z praxe
HTTPS
SSH (SCP, SFTP)
OpenVPN (OpenSSL)
Rizika a slabiny SSL
man in the middle
odvození soukromého klíče z veřejného
další útoky (snaha o použití nižší verze SSL, slabších algoritmů atd.)
Ukázky z prezentace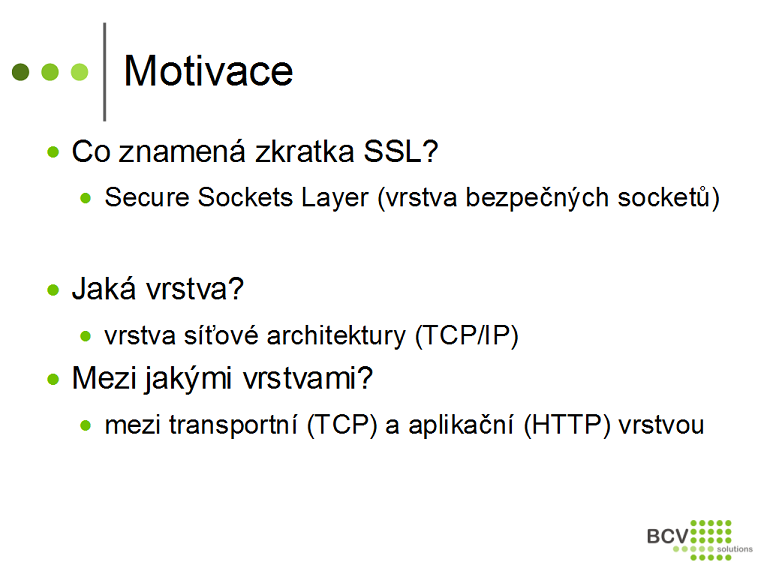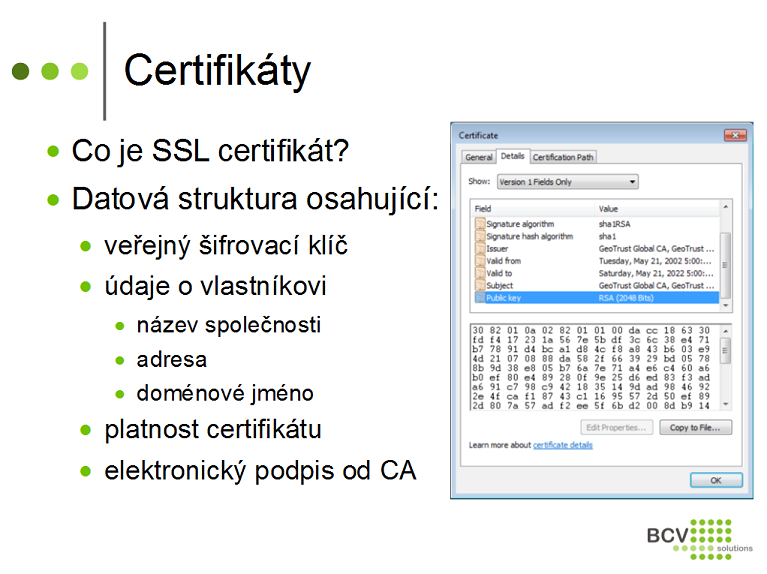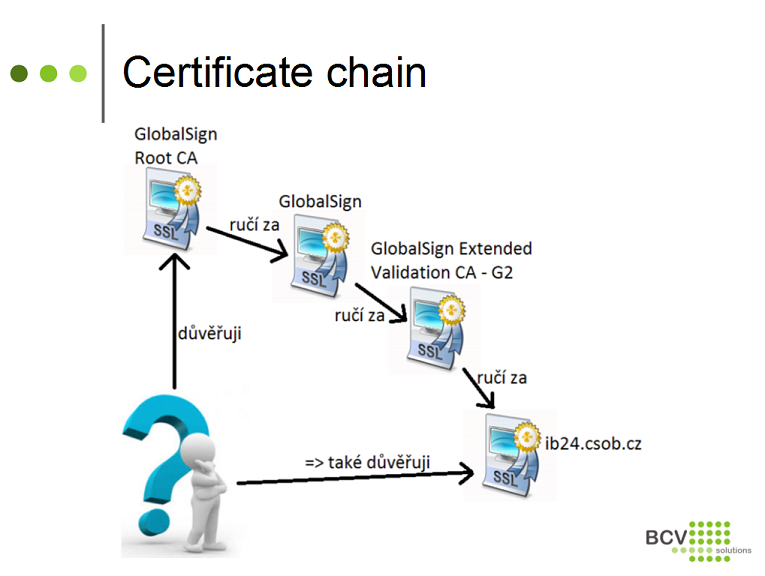 Závěr
Školení bylo koncipované tak, aby pokrývalo průřezově všechny aspekty SSL. Na druhou stranu jednotlivé body, ač jsou zajímavé, byly probrány pouze povrchně. Hlubší rozbor například OpenVPN nebo certifikátů by bez problémů vydal na samostanté školení, ale to tentokrát nebylo cílem. Ačkoliv prezentované termíny účastníci neslyšeli poprvé, u každého bodu vyvstala nějaká otázka, o které se následně diskutovalo a díky tomu si troufám říct, že se každý účastník dozvěděl něco nového. Pokud byste se rádi o tomto školení dozvěděli více, můžete mě kontaktovat na jakub.tomek@bcvsolutions.eu.