Řešení správy identit, které našim zákazníkům dodáme, po nasazení také zpravidla podporujeme: aktualizujeme, rozvíjíme, udržujeme a řešíme případné nečekané situace. K ověření, že prostředí funguje, jak má, se většinou používá nějaký specializovaný monitorovací software, třeba Nagios. V článku, který si právě čtete, Vás seznámím s tím, jak pomocí jednoduchého skriptu monitorujeme správný běh CzechIdM u zákazníků. A pokud nemáte Nagios, nevadí, skript funguje i samostatně.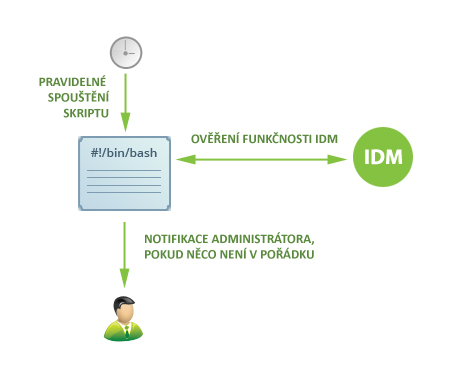 Z jakých komponent se CzechIdM skládá?
Dřív, než ověříme funkčnost CzechIdM, kontrolujeme, že je v pořádku prostředí: že nedošlo místo na disku a že se v něm nevyskytuje nějaký podivný proces, který žere třeba 98 procent procesoru.
CzechIdM ukládá svá data do běžné relační databáze, používáme MySQL, Postgres nebo Oracle, záleží na volbě zákazníka. Ověřit, že pracuje databáze, můžeme snadno přihlášením a nějakým cvičným SELECTem. Tím ovšem nezjistíme, že se do databáze správně přihlásí CzechIdM, proto je lepší do databáze přistoupit prostřednictvím samotné aplikace.
Jako aplikační server používáme JBoss AS (možná se k vám už doneslo to nové podivné jméno – Wildfly – taky to skoro nedokážete vyslovit?), k ověření funkčnosti se zpravidla stačí podívat, jestli je naživu příslušný proces.
A nakonec je tu samotná aplikace, ta naštěstí nabízí celou sadu webových služeb, pomocí kterých můžete v CzechIdM provést téměř cokoli, fantazii se meze nekladou: můžete ověřit spojení s databází cvičným výpisem uživatelů, můžete zkusit založit nového uživatele a ověřit, že mu vznikly správné účty na koncových systémech, anebo se jenom přihlásit a zase se odhlásit.
Komunikace s aplikací
Webové služby se z shell skriptu nespouští úplně snadno, napsali jsme si proto jednoduchou klientskou aplikaci v Javě, která webové služby spouští a ověřuje, že produkují správné výstupy. Říkáme jí IdMTester; na vstupu jí musíte předat potřebné přihlašovací údaje a název workflow, které má spustit pro ověření chodu CzechIdM.
Zpráva administrátorovi nebo supportnímu týmu
Pokud skript spouštíme přes Nagios, postará se o zaslání mailu nebo sms sám Nagios. Skript ovšem bude fungovat i sám, můžete mu nastavit e-mail, na který má dát vědět, pokud něco není v pořádku. Do cronu jen nastavíte spouštění každou hodinu a dokud se ve vaší e-mailové schránce nic neděje, můžete být v klidu, že CzechIdM běží, jak má.
Závěr
V článku jsem se zabýval automatickým monitorováním Identity Managementu CzechIdM a seznámil vás s řešením, které pro monitoring používáme u našich zákazníků. Kdybyste se chtěli na cokoli zeptat nebo skript sami začít používat, napište, moje adresa je vojtech.matocha@bcvsolutions.eu.