Minulý týden jsem brouzdal po internetu a po dlouhé době má cesta vedla na známý slevový portál. Mezi záplavou pro mě nezajímavých slev jsem narazil na jednu, která mě přímo "praštila do očí".  LaserGame! Perfektní! Jak jsem na to mohl po dlouhá léta zapomínat? Hned kupuji…. počkat! ale s kým pujdu?  Odpověď byla jasná, oslovím kolegy a  podnikneme LaserGame jako formu tzv. "teambuildingu". Sedl jsem tedy k počítači a rozeslal hromadný mail (ano ten typ mailu kteří všichni tolik nesnáší). Reakce byla okamžitá a během prvních 2 hodin se zaregistrovalo 6 dalších lidí.  OK team bychom měli. Vouchery jsem zakoupil a zarezervoval termín.
V den D byla cítit soutěžní nervozita v celé firmě, všichni si chtěli zastřelit svého šéfa! Večer jsme se sešli na místě konání v Plzeňské ulici, kousek od Smíchova. 2 hodiny předem. Rozhodli jsme se tedy usadit přímo v aréně kde podávají i orosené, chlazené občerstvení. Samozřejmě nemohlo chybět ani klasické nabrání sil v podobě nejvýznamnějšího přínosu světu z Itálie, známého božského kulatého zázraku.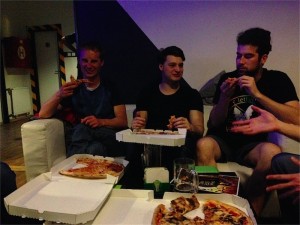 22:00 náš čas nadešel! Obléknout vesty a připravit zbraně. Vbíháme do arény a očekáváme zahajovací signál. Nutno dodat, že v zájmu větší "řeže" jsme se rozhodly pro hru ve stylu "free for all", tzn. všichni proti všem. V tomto módu prostě nemáte žádné přátele.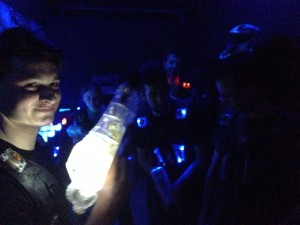 Je tu signál! všichni začínáme sprintovat po aréně a kolem nás zběsile létají lasery. Pálíme po všem co se pohne nezávisle na pohlaví, věku nebo vzrůstu. Často se stává že zaběhnu za roh a srazím se s kolegou. No nevadí, i když leží na zemi, stále je to terč! Atmosféru dokresluje osvětlení, futuristické zvuky laserů a umělá mlha.
Konec! po 15 minutách, které nám připadali jako věčnost končíme. Jsme strašně spocení, ulítaní a plní adrenalinu. Jdeme se vyfotit a následuje vyhodnocení. Úděl šéfa je znát, ten náš končí na posledním místě :), prostě si chtěl každý vystřelit.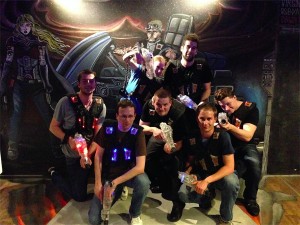 Chladneme u dalšího zlatavého moku a vyhodnocujeme hru. Padá rozhodnutí, že příště zkusíme něco realističtějšího a že se máme na co těšit, dnes jsem pro náš team zakoupil vouchery na paintball. O fotky (náležitě barevné)  a report jistě nepřijdete!
Jaký nejlepší teambuilding jste zažili vy? Napište mi to na Facebooku :)