Do rozvoje zaměstnanců jak po profesní, tak osobnostní stránce věnujeme značné úsilí. Pořádáme interní školení zaměstnanců na technické znalosti, ale i školení pro rozvoj soft skills. Tentokrát jsem provedl školení metody Get Things Done (GTD) – time managementu. Cílem školení bylo ukázat metodu GTD, v čem pomáha a jak tuto metodu aplikovat.
Agenda školení
Dotazy posluchačům:
* Jaké používáte metody time managmentu?
* Co (ne)vyhovuje?
* Co hledáte?
* Proč řídit svůj čas?
Příčiny proč řídit svůj čas:
* mám v úkolech chaos
* potřebuji mít jediné místo, kde budu mít úkoly
* potřebuji správně řídit priority úkolů
* hledám pomoc při výběru a plánování úkolů
* neplánuji, proto se cítím pod tlakem a jsem ve stresu
* zapomínám na úkoly, potřebuji systém
* potřebuji rozplánovat velké úkoly na podúkoly
* chci lépe vyvážit volný čas vs. pracovní
* chci snížit stres
Základní pravidla:
* Sezbírej, zatřiď, prováděj a pravidelně reviduj
* GTD metoda není o kouzelném nástroji, ale o změně způsobu práce, myšlení a o disciplíně.
* Mít jediný inbox a nápady-úkoly je třeba okamžitě zaznamenat a alespoň jednou denně zatřídit a naplánovat vykonání.
* Je třeba zadávat veškeré úkoly a to jak pracovní, tak i soukromé.
* Úkol vždy zapsat srozumitelně jako akci. K úkolu připsat i důvod a cíl úkolu.
* Pokud lze úkol dokončit do dvou minut, vykonej ho.
* Pravidelně je třeba revidovat všechny úkoly, ideálně každý týden.
GTD přínosy při správném využívání:
* Uvolnění kapacity na řešení samotných úkolů (nemusím myslet na jaké úkoly nemám zapomenout)
* Snižuje multitasking
* Dává pocit kontroly nad vším co dělám.
* Pomáhá neztratit žádnou myšlenku, která mne kdykoliv napadne.
* Umožňuje kdykoliv komplexně revidovat co a proč dělám a zda to má smysl.
* => snížuje stres.
SW nástroje pro GTD:
* Nejlepší: Omnifocus, Things
* Ostatní: papírový zápisníček :-) , Evernote, Outlook
Zdroje informací:
* Kniha: David Alen, Mít vše hotovo
http://gtdskoleni.cz/ – video
http://www.slideshare.net/Vladenka/prezentace-gtd-12-2010
http://21slov.cz/category/gtd/
http://www.mitvsehotovo.cz/category/gtd/
Náhledy z prezentace: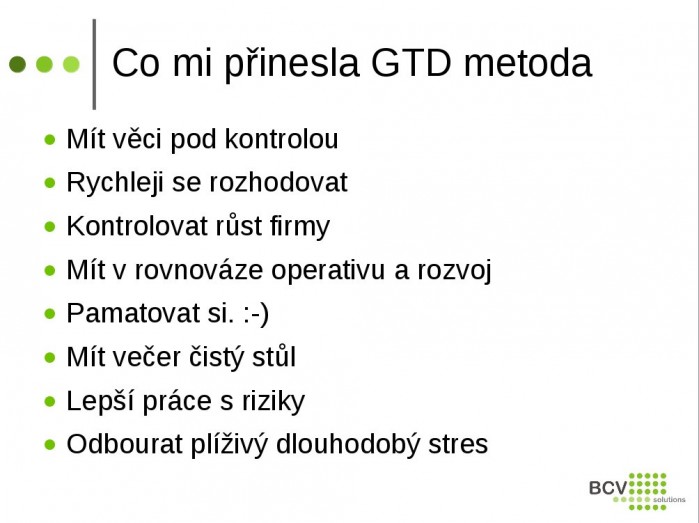 Závěr
Literatury ke GTD je dostatek, doporučuji projít výše zmíněné zdroje. Pravidla GTD jsou ve výsledku jednoduchá a srozumitelná, ovšem GTD může fungovat pouze při jejich důsledném dodržování. SW není k aplikaci GTD nutný, ale opravdu pomůže. Dva roky využívám SW Omnifocu v telefonu a později i notebooku, jde o krále v GTD SW. V případě dotazů se mne neváhejte kontaktovat, email: info@bcvsolutions.eu.